Students! Did you do your profile survey? Check your email for a chance to win a £20 voucher and tell us what you think now!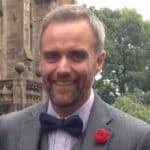 Goodness me… where to begin… what an amazing couple of weeks! I can't believe that it's over already!!
I'm still completely shocked at the outcome, but absolutely delighted that you, the students, have voted for me to win the, I'm a Scientist Crystallography Zone. It's been such an enjoyable and memorable couple of weeks and I'm hugely grateful for the opportunity to participate in such an inspirational experience. I feel quite honoured to have been able to speak to you all and I hope you've enjoyed talking to scientists about science as much as I have.
To all of the students taking part, you have been absolutely fantastic; as have my fellow scientists and all of the organisers and moderators from the I'm a Scientist team. A special shout out to Will, Rebecca, Adam, Martyna and Alice, you were all terrific and I know that the students thought so too. I'm going to miss logging in every day to chat with you and take part in some very dynamic and lively discussions! Thank you to all of the organisations who have taken the time to support these activities and in particular the Science and Technologies Facilities Council in the Crystallography Zone.  What a great event, long may it continue!!
I've enjoyed enormously the format of I'm a Scientist and all of the fab questions posed by some very well informed and intelligent students. You certainly had me thinking on my feet on a number of occasions. The questions were diverse and really interesting and this experience has taught me a lot about the art of communication; I've certainly learned a lot and hope you have too! Most of all I've enjoyed being able to talk about things that are important to you, like why we chose our careers, what our favourite experiments are, what is crystallisation all about, why is our research important, what is our biggest contribution to science and who inspired us to work as scientists. I've also enjoyed chatting about things like our hobbies and interests too. There really is nothing that special about scientists; we're all just normal people and I hope that came across to you all. I hope that all of our answers were useful and that they sparked some interest in you to consider a future career as a scientist.
Participating in I'm a Scientist has really been a privilege and something that I would heartily recommended to anyone who wanted to take the plunge. As scientists we have a duty to talk about what we do and make our work accessible to everyone. What better an outcome in this process, than to inspire the next generation of scientists!
To all of the students taking part, thank you. Follow your dreams, keep asking questions and good luck!!
Scientists! If you'd like the chance to win funding for your own public engagement work, apply for the next I'm a Scientist, Get me out of here: imascientist.org.uk/scientist-apply