Profile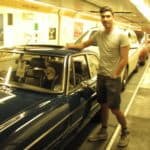 Adam Berlie
Curriculum Vitae
Education:

Durham University, University College London and Aylesbury Grammar School

Qualifications:

PhD, MSci, A levels and GCSEs

Work History:

Australia, China and UK

Current Job:

Instrument Scientist

Employer:

ISIS Neutron and Muon Source, STFC

My connections to STFC science and technology:

errr, I work there!
Favourite thing to do in my job: Doing my own science

About Me

I basically just wing it and hope for the best

Read more

I live in Milton Keynes with my fiancee who is wonderful (and has in no way influenced this sentence). My spelling is horrific as I am dyslexic and I thank God every day for spell checker. I also have a very short attention span and tend to get bored very, very easily. Despite this, I have continued to play the guitar for many, many years and am building my collection. I initially thought it would help me get girls, but quite quickly realised that the combination of both science and an in-depth knowledge of music is actually a turn-off. My second love is classic cars and between my fiancee and I we have an MG B GT and another two that are in boxes slowly being rebuilt. If anyone ever tries to tell you children are a financial black hole, try restoring a car!

My Work

Muon Instrument Scientist

Read more

I work for ISIS (not the bad kind), it is a neutron and muon source with the Science and Technology Facilities Council. We produce….neutron and muons. Muons are a subatomic particle that are basially a heavy electron and exist in both matter and anti-matter. We fire the muons at many different types of materials to figure out more about thier underlying properties. It has it perks…

My Typical Day

There is no such thing as typical!

Read more

One day I'm sat in my office writing proposals or doing the odd bit of admin. The other day I could be helping users perform experiments or off doing my own research. My office has been recently refurbished and I was excited to be back in there, however, do you think I've much of a chance to sit down and enjoy my nice clean, environment? Nope. Actually it was too bland so I put some posters up.

What I'd do with the prize money

I don't really know, but I have some ideas. Thought I'd see what you think.

Read more

I thought I'd see what people thought was best to do with the money.

One idea was to try and buy Durham University a cloud chamber – my old PhD supervisor goes out to visit schools a lot and he we have a big cloud chamber at work so you can see cosmic particles. He was moaning that we had one and they didn't, but it would be a good learning tool for students.
Another idea was to create a load of t-shirts that simply said "Ask me about science" – some of the more technologically savvy might be able to create, what I call, "hashtag". The idea would be to send these out to scientists across the country and when wearing it you could approach them in bars, cafes, shops, parks to talk to them about their enthusiasm for science (not just to help with home work).
I could put it into our own outreach budget here at ISIS, for us to buy more demonstration equipment.
I could also spend loads of money at particlezoo.com to buy soft toy particles that could be given out as part of our outreach. It's great being able to give people momentos because it reminds them off the science that we have talked about.

My Interview

How would you describe yourself in 3 words?

music loving scientist

What's the best thing you've done in your career?

Changing my title to "Dr"

What or who inspired you to follow your career?

I just felt like I wouldn't fit in in a normal work place

What was your favourite subject at school?

Chemistry

What did you want to be after you left school?

I thought I might end up as a medical doctor

Were you ever in trouble at school?

Yes

If you weren't doing this job, what would you choose instead?

Classic car restorer or engineer

Who is your favourite singer or band?

Chas & Dave

What's your favourite food?

Proper curry, none of that take-away rubbish

What is the most fun thing you've done?

Driving around the alps in a 1973 MG B GT

If you had 3 wishes for yourself what would they be? - be honest!

To be rich beyond my wildest dreams; to have a warehouse full of classic cars; and guitars (and world peace - of course)

Tell us a joke.

Where do you find a dog with no legs? Where you left him.
---
---