Profile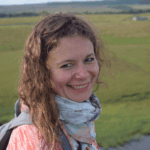 Martyna Pastok
Curriculum Vitae
Education:

University of Liverpool, Poznan University of Life Sciences (Poland), VIII LO Poznan (Poland)

Qualifications:

MSci in Biotechnology (2001-2006) - Poznan University of Life Sciences and PhD in Biochemistry (2006-2011) - University of Liverpool

Work History:

University of Liverpool (2006-2012) and Newcastle University (2012 until now)

Current Job:

Postdoctoral Research Associate

Employer:

My connections to STFC science and technology:

Collecting and analysing data from Diamond Light Source
Favourite thing to do in my job: Love planning and performing experiments and love teaching.

About Me

Energetic and optimistic scientist

Read more

Since last 6 years I have lived in Newcastle upon Tyne with my daughter. I lived before in Poznan in Poland (where I am from), in Edinburgh and in Liverpool. Science give you loads of opportunities to work short time or long time in different cities and different countries, you can also go for short trips for conferences where you can talk and present your work to different scientist. Besdies science and science-related stuffs, I love travelling in general and I love especially hiking far away from beaten tracks. Recently discovered climbing. I love being out and about somewhere in nature. I miss sunshine!

My Work

I am trying to understand how molecules regulate cell division

Read more

protein crystals, aren't they beautiful?

Diffraction pattern of one of the crystals! It is protein an diffracts up to 1.5A! 🙂

Crystals of the same protein grew in different condition.

My lab bench

me in the lab

Loads of media for bacteria – food for bacteria to express loads of my protein!

System AKTA – pumps connected to different columns to purify protein to maximum purity – as pure as possible, the purer the better.

Pate reader to perform binding assays and protein characterisation assays

Biomek robot used to prepare crystallisation plates -each of 96wells have different chemical composition to find the conditions which allow crystal formation – unlimited amount of combinations!

bacteria colonies

dialisis cassettes to change buffer which protein is in

DNA visualised on the gel – preparation of protein fragments to produce better crystals

bench is always full of tubes – work in progress

X-ray generator to produce Xrays which are used to shoot at my crystals

protein stability assay set up

preparing experiment assessing how well proteins are binding to each other

some proteins can have added a GFP-tag – green fluorescence protein extention and they are visible using fluorescent microscope

bacteria growth – protein production

Protein purification stages – getting there. last 3 lanes have very pure protein ready for crystallisation.

My Typical Day

every day is different, in general working in the laboratory performing experiments, purifying proteins, meeting people, teaching, writing

Read more

Usually I come to work in the morning, check my emails, talk with colleagues, discuss results during meetings. I am also meeting students and teaching them how to perform experiments in the laboratory, answer their questions. And obviously I work in the laboratory myself which I adore. I grow loads of bacteria to produce my proteins which later on I purify using system of pumps and columns. In the end I have a pure protein which can be used in different assays with compounds and also can be crystallised. If lucky to get good crystals and good data from them, you can for the first time in the world see how a molecule look in atomic details – you can see all the details and understand how it works. It is very exciting and rewarding.  In meantime while waiting for experiments to run, I can have a coffee or lunch or go to the gym. I love sport as it allows me get rid of some frustration when things in the laboratory do not work and I do not know why 😉

What I'd do with the prize money

Science event with experiments and scientists at a school

Read more

I would organise a science event at a school in Nort-East with experiments, interviews and speed-dating with scientists and other science-related professions, and some exciting talks, etc…

My Interview

How would you describe yourself in 3 words?

Optimism, strenght, energy

What's the best thing you've done in your career?

Went for a Erasmus Programme to Edinburgh where I thought of becoming a scientist and starting a PhD after my degree.

What or who inspired you to follow your career?

For many things my inspiration was my grandma Wanda but I was usually choosing on the spot what I was currently enjoying doing and followed that route.

What was your favourite subject at school?

maths and biology

What did you want to be after you left school?

wanted to do something what I would enjoy doing

Were you ever in trouble at school?

not too much. I was a good student.

If you weren't doing this job, what would you choose instead?

I would be a baker and would open a bakery with fresh bread:)

Who is your favourite singer or band?

too many to choose from... recently listenining more of NIN and Iron Maiden

What's your favourite food?

good food! I love good dark chocolate and good bread.

What is the most fun thing you've done?

Went to Trampoline Park and did Via Ferrata in Scotland

If you had 3 wishes for yourself what would they be? - be honest!

live in a nice place close to mountains, make an important scientifc discovery and just be happy

Tell us a joke.

very bad at jokes....Q: Why did the skeleton go to the prom alone? A: Because he couldn't find any "body" to go with.
---
---