Profile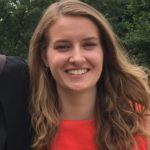 Rebecca Roddan
Curriculum Vitae
Education:

University of Bristol (4 year MSci), Currently doing a PhD at Birkbeck and UCL.

Qualifications:

First class MSci in Chemistry

Work History:

Whilst I was at school, I worked as a receptionist at a yoga studio 2 evenings a week at school. I have also done internships in a renewable energy company, a new feeds company and in the cabinet office.

Current Job:

PhD student

Employer:

I work at Birkbeck College (Department of Structural Biology) and UCL (Department of Chemistry).
Favourite thing to do in my job: Working in the laboratory

About Me

I am a second-year PhD student studying enzymes (proteins which do chemical reactions) at Birkbeck and UCL.

Read more

Hi, I'm Rebecca and I'm a 24 year-old PhD student at Birkbeck College and UCL. I live in London and have been for the last two years, but I did my undergraduate degree in Chemistry at the University of Bristol.

Outside of my PhD, my hobbies are yoga, playing the guitar and I like to read a lot.

My Work

I study an enzyme (a protein which does a chemical reaction) which makes a drug molecule. My work aims to try and redesign the protein to get it to make new drug molecules.

Read more

I work on an enzyme (a protein which can perform chemical reactions). This protein is found in a plant and makes a drug molecule called norcoclaurine, which has lots of different medicinal activities such as relaxing muscles and helping to stop blood to clot.

Enzymes are interesting to scientists to perform chemical reactions as the reactions are usually more specific and are better for the environment than using normal ways of making drugs (such as using toxic reagents and high temperatures).

In plants, the enzyme makes this molecule by reacting two other molecules together, these two reacting molecules are known as substrates. One aspect of my work is to see what other substrates we can get the enzyme to accept, so to make other molecules which are similar to norcoclaurine which might have useful benefits in medicine.

My enzyme is a protein, which means it is made up of a sequence of different, joined together amino acids. The amino acids each have different shapes and functions and so the sequence of these amino acids determines the structure and function of the protein.

One aspect of what I do is look at the structure of my enzyme (using x-ray crystallography) and from there, it gives us an idea of what amino acids of the enzyme we can change. The hope is that we can change some of the amino acids to help change the way the enzyme reacts, from accepting new substrates to making the enzyme more stable.

My Typical Day

I spend most of my time in the lab doing experiments. In breaks in my lab work, I'm looking at the results and coming up with ideas for new experiments.

Read more

My days can be very varied depending on what sort of area of my PhD I'm working on, but here is a description of one of my days last week.

9-9.30 am: I arrive in the lab and check on any experiments I had running overnight.

9.30 am – 12:30 pm : I am using organic chemistry at the moment to make a variety of substrates to test with my enzyme. I set up a new chemical reaction and I purify another molecule that I synthesised yesterday. I also run an NMR of the reaction that I ran overnight. This is just a technique we use which gives us some data which we can use to determine what small molecules we have in a reaction mixture.

12:30 pm – 1:00 pm : I sit at my desk and have lunch. I usually use this time to check my emails and check whether my reactions have worked from overnight.

1:00 – 3:00 pm : I head over to the other lab I work in which focuses on x-ray crystallography. I am currently trying to get a structure of my enzyme with a molecule in the active site. I check to see whether I have any new crystals and set up some new crystallisation plates.

3:00-6:00 pm: I finish off any of the chemistry experiments I was doing in the morning, read some papers, do some data analysis and then head home!

What I'd do with the prize money

I would donate the money to the Science Museum

Read more

I would give the money to an already well established science outreach centre so I would donate the money to the Science Museum. I used to love it as a kid and still visit now. I think they work really hard to make science exciting and accessible for everyone and every donation makes a difference to them.

My Interview

What or who inspired you to follow your career?

One of my teachers at school

What was your favourite subject at school?

Chemistry

What did you want to be after you left school?

I didn't know but I felt like I wanted to do something scientific!

Were you ever in trouble at school?

Not really

If you weren't doing this job, what would you choose instead?

Something else science-related

Who is your favourite singer or band?

Death Cab for Cutie

What is the most fun thing you've done?

Scuba diving
---
---