Profile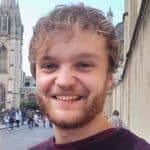 William Glass
It's the final! I've had a great time answering so many interesting questions!
Curriculum Vitae
Education:

Preston School / Yeovil College, Cardiff University, University of Oxford

Qualifications:

A-Levels (Physics, Chemistry & Maths), MChem Chemistry, MSc Theoretical & Computational Chemistry

Current Job:

PhD Student

Employer:
Favourite thing to do in my job: The favourite thing in my job is chatting to others about all sorts of science. The best thing about working in science is that it is so broad! My work is inherently interdisciplinary and so I'm always learning new things from others as well as helping other members of the group.

About Me

I'm a PhD student in the field of computational biophysics. I use (very big) computers to simulate tiny biological machines called proteins.

My Work

In my research I'm looking at how a certain type of protein responsible for how your nerves fire behaves in a cell membrane (the barrier between the inside and the outside of a cell).

My Typical Day

Coding, setting up simulations, data analysis and meetings!

Read more

Since all of my work is computational my typical day is spent in front of a computer. I was always terrible at practical work in my undergraduate degree and I think it's safer for myself (and others!) that I'm not in a wet lab these days. In my work I build models of proteins (the molecular machines in your body that carry out all sorts of different functions) from crystal structures obtained from experimental scientists (e.g. at the Diamond Light Source in Harwell). I then use different bits of software and code to simulate how these proteins act in their normal environment (i.e. not locked up in a static crystal!). My 'typical day' would include setting up and running simulations, writing code (e.g. the Python programming language) to analyse results, reading the papers and attending any relevant meetings or seminars. Oh and coffee, we can't forget coffee!

What I'd do with the prize money

I'd put the money towards an app we have been developing to introduce students to the techniques we use in our simulations.

Read more

Myself and few colleagues (my friends!) have been putting together and building an app that introduces students (and teachers)  to molecular dynamics. Molecular dynamics is basically the physics used to describe motion over time. Our app, called Argon, is on iOS and Android so you can have a go yourself to get a feeling for the types of parameters we need to think about when setting up a simulation. If I were to win the prize money I'd love to put this towards more events and school visits with our app.

My Interview

What's the best thing you've done in your career?

I'd say there are lots of things that I'd count as the best, probably the amount of travel I've been able to do has been one of them!

What or who inspired you to follow your career?

All sorts of people, far too many to list here!

What was your favourite subject at school?

I enjoyed all of the sciences and maths.

Were you ever in trouble at school?

I was ALWAYS moved for talking too much!

Who is your favourite singer or band?

All sorts, my music taste is all over the place.

What is the most fun thing you've done?

Spending a whole summer travelling on my own (and not getting lost!).

Tell us a joke.

I think it's best for all of us that I don't.
---
---